Over the course of my computing life I've had a multitude of screen setups, from 17 and 21 inch CRT's to my first LCD (ViewSonic, great monitor!) and on up through double, triple and quad display setups. Most recently I had been using a pair of Acer B233HU's, one for my home desktop and one for my work laptop with Synergy for sharing one keyboard/mouse. I chose these 23 inch units for their "higher than 1080p" resolution (2048 x 1152) and range of adjustments (up/down was the seller) way back in 2009. Now that much higher resolution displays are becoming the norm this setup seemed a little long in the tooth and it was a great time to upgrade.
Define the need: how much space do I need?
The biggest issue I kept running into while looking to replace the Acer's was that every monitor I looked at and compared resulted in a price times at least two computation. I was weary of having 3-4 monitors spanning across my desk, especially now that my work life revolved around meetings email and IM. Having two monitors for work was a plus mainly to keep email up on one, but I no longer needed visual studio and 5 web browsers up to shuffle through. Similarly on the home side I mostly browsed the web, used streaming services and played a few games (LoL, Sim City, Starcraft 2)- I had no need for more than one monitor. Ideally I'd be able to have a web browser up on my home machine and email up on my work machine with a flex spot for IM/other tasks so basically 3-4 views/monitors.
4k, pixel density and productivity
Throughout my search I had been against a 27-28 inch 4k monitor, sighting what I called "Pixel Overload". Having 4k resolution at 28 inches is beautiful, but I can't leave scaling at 100% in windows and tile in 4 1080p browser screens and have them be readable. For those reasons, I thought 4k was out of the question and I was back to 4 higher than 1080p lower than 4k screens, likely opting to keep the acers for home and grab a new set for work.
Then I read the tale of people using 40 inch 4k screens at 30hz to program
They raved about what I was looking for: Desktop real estate, tons of it! Four usable 1080p screens in one! I started researching 40 inch 60hz screens and came across the 44k and finally the updated 404k version. This seemed to be what I was looking for and had a feature that I never even considered: Split screen.
With Split screen I could split the monitor in half, or 4ths and have 1/2/3/4 "Monitors" according to windows. This meant no need for multiple screens!
I quickly justified the $700 price tag, ordered and waited anxiously for the box to arrive, and quickly set it up to launch the required game of LoL at 4k (OMG!):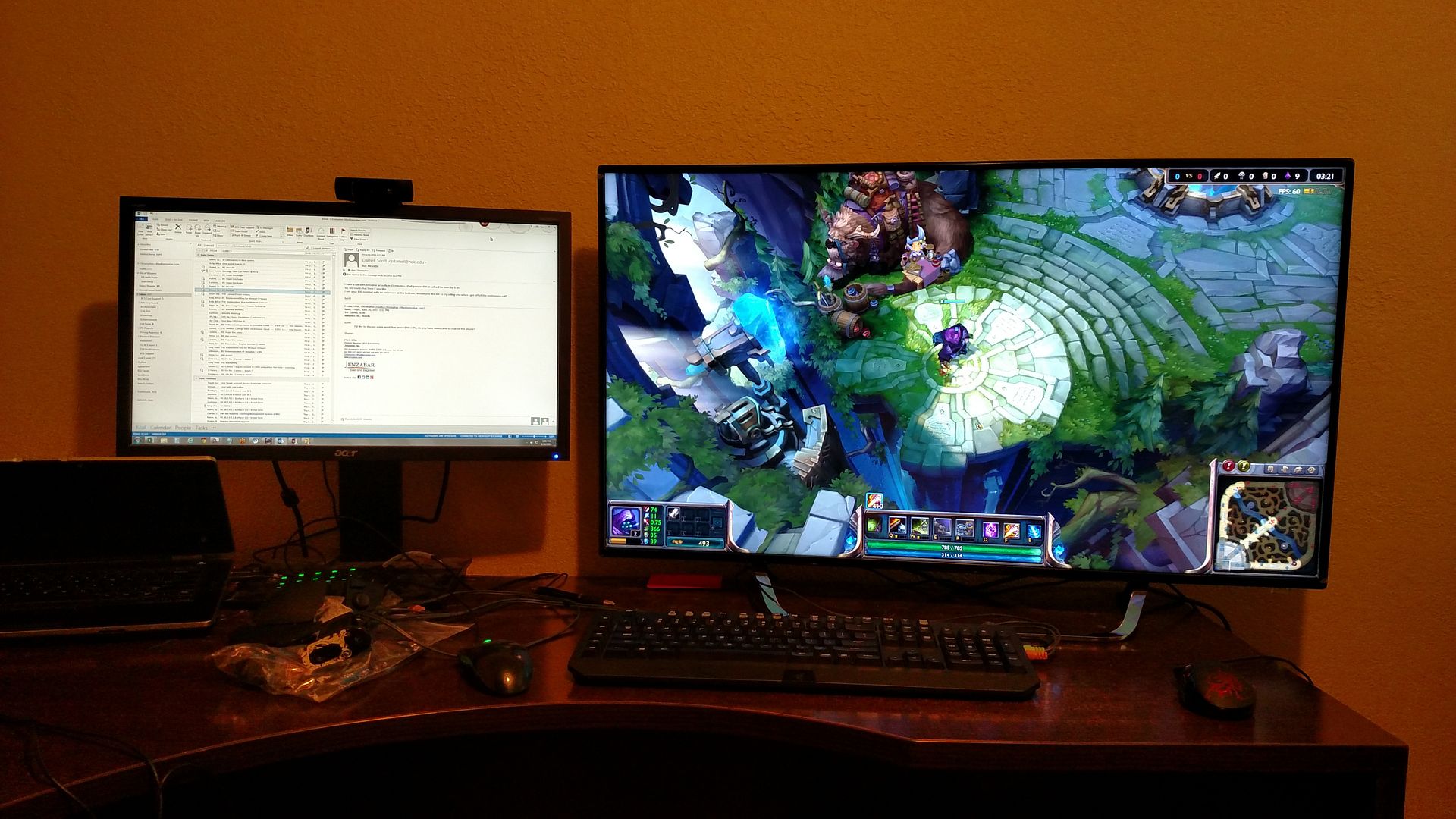 After some fiddling I ended up with the monitor setup in the "A | B/C" configuration shown above for office hours. My windows 10 home machine is on the left occupying a 1920×2160 screen (display port) and my work laptop is powering two "monitors" on the right, each 1920×1080 (HDMI/DVI):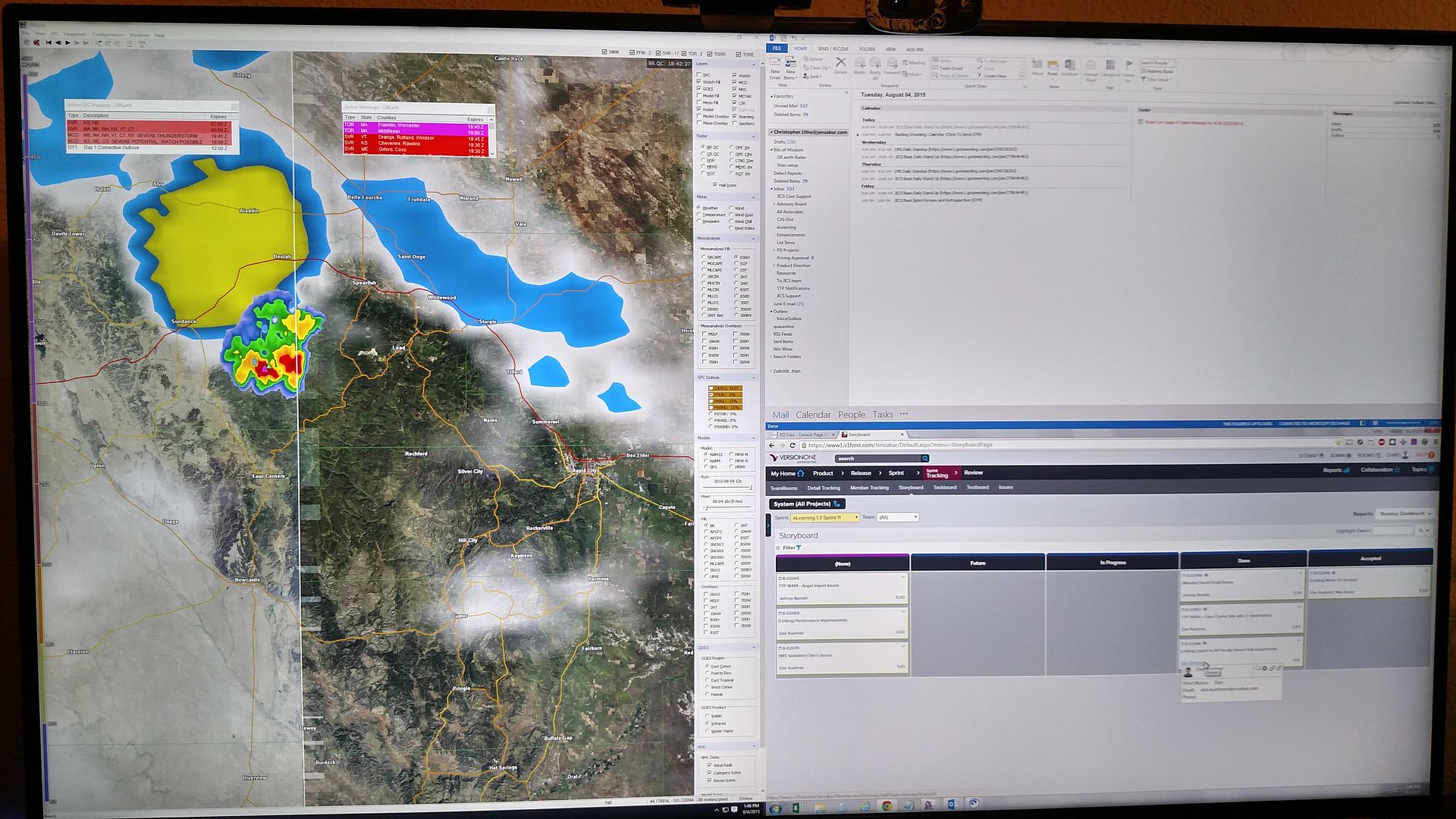 At night I press a few buttons and windows 10 takes over the whole thing, for a 4k home screen that is usable at 100% scaling.
Pros:
No scaling required, I get 4 20 inch 1080p monitors in front of my face without having multiple screens on the desk.
4k gaming/movie watching from the home machine
Easy management of multi-screen setup and painless switching from 1/2 4k to full 4k in Win10
DisplayPort 1.2 and HDMI 2.0 for 4k @ 60hz goodness
Cons:
DVI/HDMI/DP/VGA inputs: would rather see 4 DP's or 2 DP's and 2 DVI's
Monitor reported itself as a TV via HDMI so color was slightly off vs DVI until I used a DVI to HDMI cable and two DVI outs on the laptop, now the two screens are identical colors
No adjustments from cheap stand (I'll be hanging mine on the wall, too low to the desk to use forever this way)
When setup for 3 screens you can't have one screen be "Extra wide" and then two screens side by side, you're stuck with an "Extra Tall" screen. This isn't as annoying as I thought it would be but it could be more flexible.
Mine didn't come with a remote, though most out there now do.
Overall: I am thrilled with the purchase and won't go back to multiple monitors until I've got two of these things flanking me!